More photos of the Wehdem Church and area.
History of the Wehdem Parish


(Currently in German )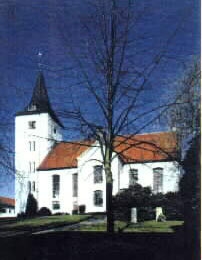 The Evangelical Lutheran Church in Wehdem serves the communities of Wehdem, Oppendorf & Westrup. It also served Oppenwehe until St. Martini Ev. Luth. Church opened there in 1931. The current church building in Wehdem was built in 1801.
Listing of the microfilm records available of the Wehdem Church books through the Latter Day Saints Family History Centers
Index lists have been created for many of the Wehdem films. These files are lists of the entries in the church record books at Wehdem Church in Stemwede. The files are organized according the births, marriages or deaths. The dates for each file correspond to the dates on the microfilm copies of the church books available through the Latter Day Saints Family History Centers. Each file may be organized one of two ways. All are organized primarily by year. The secondary order of listing is either in order of entry or in alphabetical order with the entry number listed. These are text files and can be very long. You may wish to save them to your hard drive to save internet time. If you open them in a word processor, such as MS Word, the columns should line up better.
There are a couple of primary abbreviations in the files: gen. & geb. These are short for "genannt" and "geboren". "Genannt" means that the family is called by another name, usually someone married a female landowner (widow or there were no sons) and the husband took her name. "Geboren" indicates that the bride was most likely getting married for the 2nd time or more. The "geboren" name would be her maiden name. Some files do not show "geb" or "gen", but have multiple names shown for the groom or bride. These would indicate that one of these two situations is present.
Variations of Names:

Your family name may be Becker, but suddenly you can't find any. Particularly in the earlier records, the names were spelled by the pastor since many people couldn't read. A new pastor may have meant a new spelling. This is a compilation of many of the names from the Wehdem parish and variations in the spellings for them. Thanks to John Rohlfing for creating it. My own line, Rübeck, has been spelled at least 17 different ways. This is a Adobe Acrobat PDF document. To view, click the link, to download, right click the link and choose "save target as".

German Keyboard Layout - now that you found names in your family, how do you get that blasted ä,ö, ü or ß on your computer? There are methods using the alt-key functions you can find in character map, or use Microsoft's Visual Keyboard for Windows 2000 or XP. If the link doesn't work, just go to www.microsoft.com and search for "visual keyboard".

Return to the Main Page

Last Updated: 01/08/2007